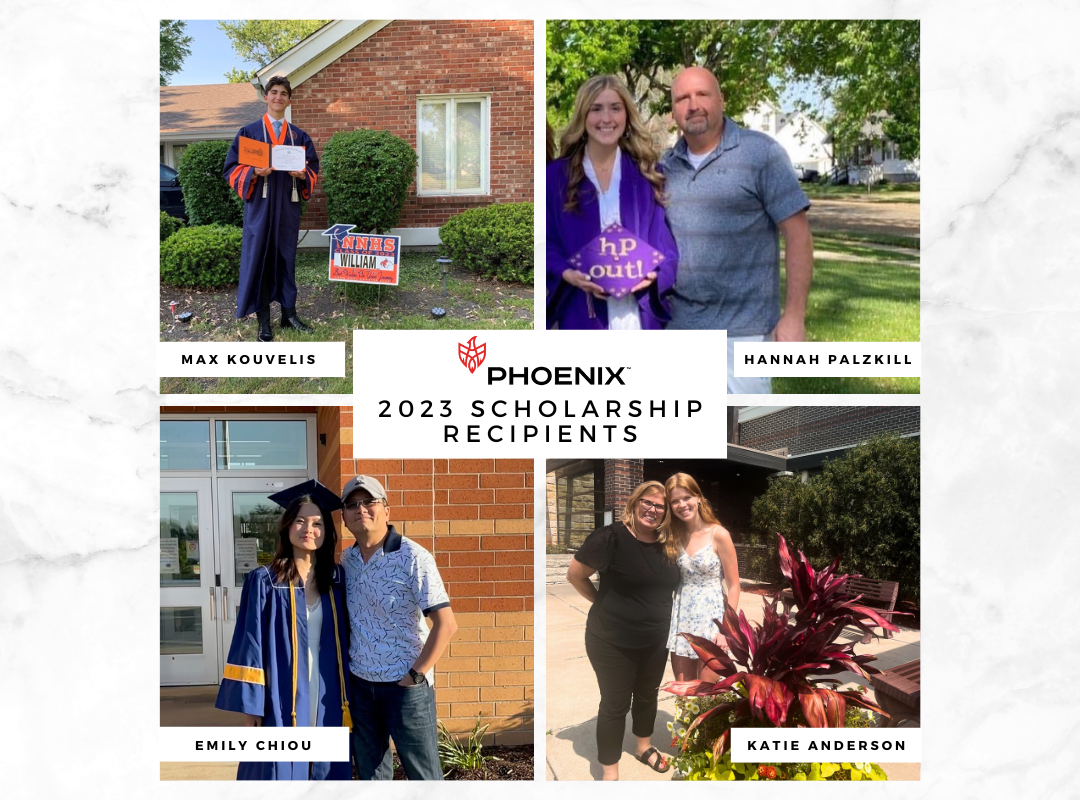 2023 Annual PHOENIX Scholarship Winners Announced
Each year, PHOENIX awards scholarships to deserving students pursuing higher education. Each student receives $2,500 a year towards a full-time undergraduate or trade school degree. We are honored to introduce you to these four outstanding recipients.
Hannah Palzkill is the recipient of the Ed Buck Scholarship and will be majoring in health, wellness, and behavioral science at Clarke University. She is the daughter of Jim Palzkill, Supervisor at our Davenport, Iowa facility.
Hannah's goal is to become a Physical Therapist. As a student athlete, she has experienced firsthand, the importance of recovering from injury through physical therapy. Hannah looks forward to helping others stay in top physical condition and recover quickly.
As a student at Clarke University, Hannah is looking forward to meeting new people on campus, creating new relationships and continuing her education and softball career.
Katie Anderson will be applying the David Moore STEM Scholarship to her nursing degree at Illinois State University. Katie is the daughter of Karen Anderson, PHOENIX Account Services Manager.
Ever since Katie was little, she knew she wanted a job that would allow her to care for others. The idea that she could save someone's life is inspiring to Katie. She is hopeful that her new career will help patients and their families feel safe and loved during a time that brings many emotions.
As Katie begins her second year at Illinois State University, she is looking forward to diving into more challenging curriculum. She is most excited about starting simulation labs and clinicals during her junior year.
Emily Chiou received the Raymond Kohs Scholarship. She is the daughter of Wen Chiou, Director of Information Technology at PHOENIX, and will be majoring in accounting at Texas A&M University.
Emily chose to pursue accounting after taking courses in high school. She discovered a love for taking complicated and messy financial data and turning it into a clear and simple spreadsheet of numbers. She is looking forward to having a career that demystifies finance and accounting and makes it easily understandable for everyone.
Emily is looking forward to the big school atmosphere of Texas A&M University and is most excited to meet new people and make lifelong friendships (and to attend the football games)!
Max (William) Kouvelis is excited to be the first recipient of the Jeff Davis Community Scholarship. He has lived his entire life as a Naperville resident and is a 2023 graduate of Naperville North High School.
He has always looked at things from a realistic and numerical perspective, so it seemed natural to major in finance and accounting at the Kelley School of Business at Indiana University. Throughout high school, Max showed an evolving interest in business, especially the financial side of things, through the business curriculum at Naperville North.
Max is very outgoing and goal oriented and looks forward to meeting new people and expanding his network. He was taught from an early age that "the more people you know, the better". He is excited to be learning at one of the leading business schools in the country.
The PHOENIX scholarship program enables the company to recognize the contributions of current employee's family members and our community members by helping fulfill their higher education goals. The Raymond Kohs Scholarship was established to honor Raymond Kohs, who contributed more than 60 years of dedicated service to PHOENIX. The Kohs scholarship is awarded to a high school senior of a full-time PHOENIX employee.
In 2019, PHOENIX added the David N. Moore STEM scholarship to honor David's more than 40 years of service with PHOENIX and his contribution to our Technical Services Department. The Moore STEM Scholarship is awarded to a full-time college student of a PHOENIX employee that is pursuing a major in a STEM-related field.
The Ed Buck Scholarship was established in 2022 to honor Ed's 48-year career at PHOENIX, where he started as a Machine Operator and worked his way up to Vice President of Manufacturing. The Ed Buck Scholarship is awarded to a spouse or adult child of a PHOENIX employee that is looking to continue their education.
New in 2023, PHOENIX established the Jeff Davis Community Scholarship. Jeff was a proud resident of Naperville for many years before his retirement and enthusiastically shared his leadership skills with the Naperville Area Chamber of Commerce, The Rotary Club, as a school board member for Naperville's Indian Prairie District 204 and as a board member of the Naperville Public Library. This scholarship is open for any graduating senior that lives in Naperville, Illinois to apply each spring.