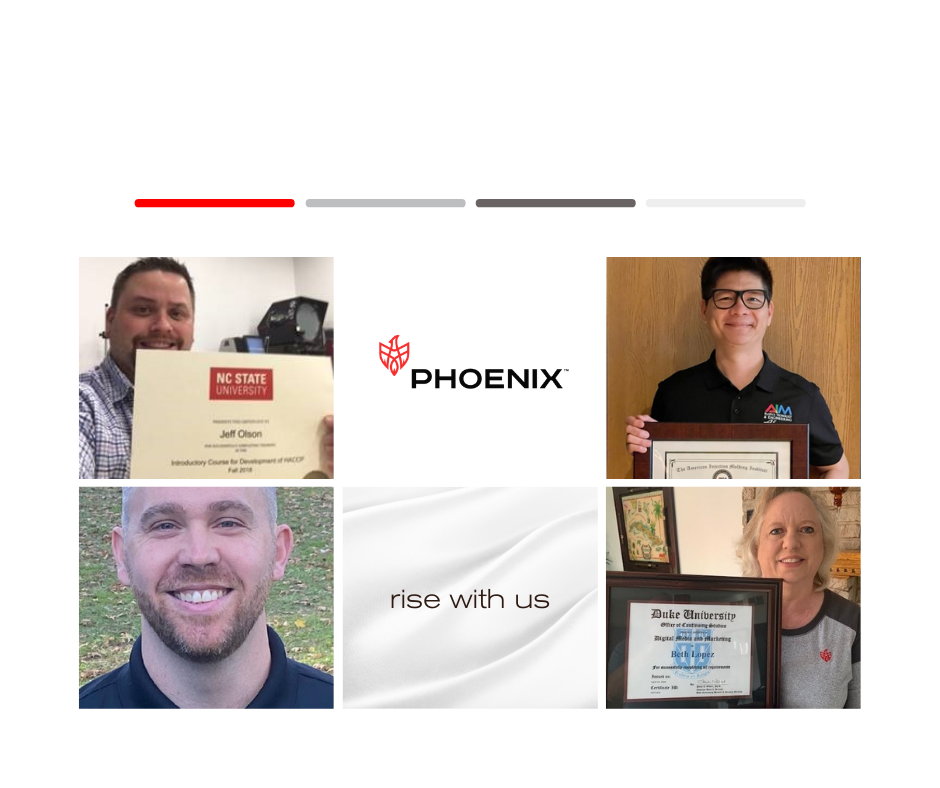 Always Rising: PHOENIX Employees Are Increasing Skills and Knowledge
In the plant or in the office, PHOENIX employees are at the heart of our success. By bringing their own experience and knowledge to everything they do, it is our employees that help PHOENIX create more opportunities to delight our customers.
Every role, from the plant floor to an office desk, requires a set of unique and often specialized skills that require consistent honing and sharpening to keep up with changes and innovations in technology and processes. As a company, PHOENIX has always encouraged our employees to seek out ways to increase their knowledge of the injection molding manufacturing process and our customers' needs allowing their roles to better contribute to creating a closure that performs flawlessly.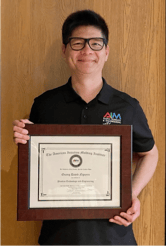 Dave Nguyen, a Process Engineer with our Research and Development team, works specifically with the molding of our closures. After a new closure is designed and the unit mold is built, he is the first person to produce the samples that are shown to PHOENIX customers. Dave supervises the delivery of the unit mold, the installation of the mold, and the initial production to ensure that everything runs correctly, effectively, and the final product is to the customers' exact specifications. Because of Dave's integral role in the molding process, he understood that expanding his knowledge in plastic molding would help PHOENIX run more efficiently overall and increase productivity. Dave enrolled in the Plastic Technology & Engineering Certificate Program (PTE) with the American Injection Molding Institute. After several months of course work and testing, Dave received his PTE certificate. He continues to find new ways for PHOENIX to reduce scrap, such as creating a process that allows caps to fall out of a mold in a "curtain fall" allowing product to move to the next step of the manufacturing process more efficiently. He is also innovating the process by which PHOENIX approves a new mold so customer specifications are met more swiftly and thoroughly.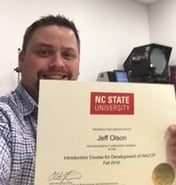 Jeff Olson is currently a Site Food Safety and Quality Manager at our Davenport plant. He joined PHOENIX as a mold technician and saw an opportunity to move into the food safety and quality team by increasing his knowledge on SQF (Safe Quality Food) requirements and procedures. In addition to his HACCP certification, Jeff has reached the Green Belt level of the Lean Six Sigma program and has attended the 2019, 2020 and 2021 SQF conferences. This has allowed him to advance through the company from a QA/Food Safety Tech I, to QA/Food Safety Tech II to his current role as Site Quality Manager. Jeff's knowledge and passion for food safety and how it affects PHOENIX on a larger scale ensures that PHOENIX customers can be confident in the quality of our closures.

Devin Pearson, Production Supervisor at the PHOENIX Greencastle facility, took advantage of the PHOENIX tuition reimbursement program to complete his degree. While working full time at PHOENIX, Devin also attended classes at Indiana State University and received his Bachelor of Science in Human Resource Development. While it was a challenge to attend traditionally structured classes while working 12-hour shifts, Devin tapped into his curious nature and perseverance to expand his knowledge and skills. The seven years of hard work to achieve this degree complement Devin's real-world experience and have helped him to become a better listener, problem solver and more effective communicator. He is looking forward to continuing to evolve as a leader at PHOENIX in his supervisor role.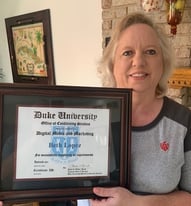 Beth Lopez, PHOENIX Marketing and CSR Content Developer, has a passion for telling stories and communicating the PHOENIX culture. Today, most business communication is done digitally and to grow in her role at PHOENIX, Beth completed coursework and testing through Duke University Continuing Studies to become an Online Marketing Certified Profession (OMCP). This certification allowed Beth to take a deeper dive into how PHOENIX's digital assets like our website, social media channels, emails and landing pages can work together to help our customers and our sales team communicate as effectively and flawlessly as possible. Because the digital world is constantly evolving, keeping this certification will require retesting every two years to stay on top of the newest developments in search engine optimization (SEO), pay per click advertisement (PPC), global data protection requirements (GDPR) and a variety of other tools and regulations that oversee PHOENIX's digital communication.
PHOENIX takes our motto "Rise With Us" to heart when it comes to our employees. Giving them the opportunities to rise to their greatest potential and follow their passion is an essential part of our company mission. PHOENIX can only be as great as the people that work here, and we happen to think we have some of the best. The employees mentioned above are just a sample of the many employees who continue to come to work each day and seek opportunities to expand their knowledge and grow professionally. We could not be any prouder!