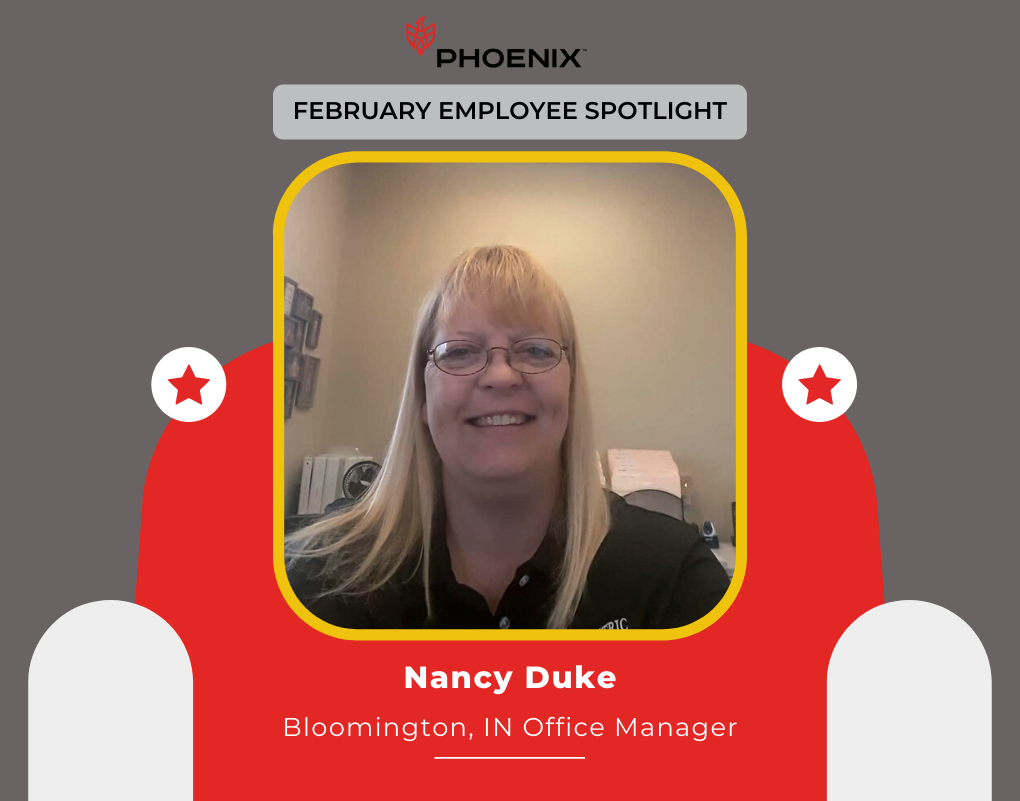 February Employee Spotlight - Nancy Duke, Office Manager
PHOENIX would like to introduce you to our February Employee Spotlight featuring Nancy Duke. Nancy is making a big impact at our new Bloomington facility in Human Resources as the facility's Office Manager. Here's what Nancy has to say about her role and being a part of the PHOENIX Phamily.

PHX: How long have you lived in the Bloomington area and what are some of the things you enjoy most about it?
ND: I've lived in the Bloomington area (in the county just south of Monroe) for about twelve and a half years. My husband and I have four sons and three of them are identical triplets. We're very outdoorsy people so one of our favorite things to do is boating and fishing all summer long on the huge reservoir out here. We also enjoy camping. Aside from that I'm also a crafter, so Hobby Lobby is my favorite store in Bloomington! I'm a quilter and I've also made wedding dresses in the past.

PHX: Tell us about your experience supporting the startup of the BL plant. What stood out to you along the way?
ND: I have to say that Morgan Mullenix is my saving grace and I thank her every day. She and Jeff Kranz helped pushed me in the direction to apply for my job in HR and on my very first day at PHOENIX I knew that this was the place I wanted to be. It is so rewarding to come into work every day: I LOVE my employees!! I enjoy talking to them when they're interviewing and making them more relaxed. I want them to feel welcome because I feel so welcome here. It truly is like a big family to me.

PHX: What makes PHOENIX a good addition as a new employer and business in the Bloomington community?
ND: We want to be competitive and I think that's great. PHOENIX offers more than what any other company around us does and we take a lot of pride in what we're doing – that's really important to me. Also, on my 2nd day of training, I got to talk to Giles Miller, PHOENIX Co-President, and that made a big impact – he was so warm and so kind to sit down and talk to me. It makes us feel good knowing how much our managers and senior leaders care. We treat our employees wonderfully.

PHX: What's your favorite product that has a PHOENIX cap?
ND: JiF peanut butter! My husband eats it on sandwiches, ice cream, anything you can put it in! I like to use it to bake: I often make cookies and I make peanut butter fudge around the holidays which my kids always ask for. It's a recipe from my grandmother who taught me how to cook.