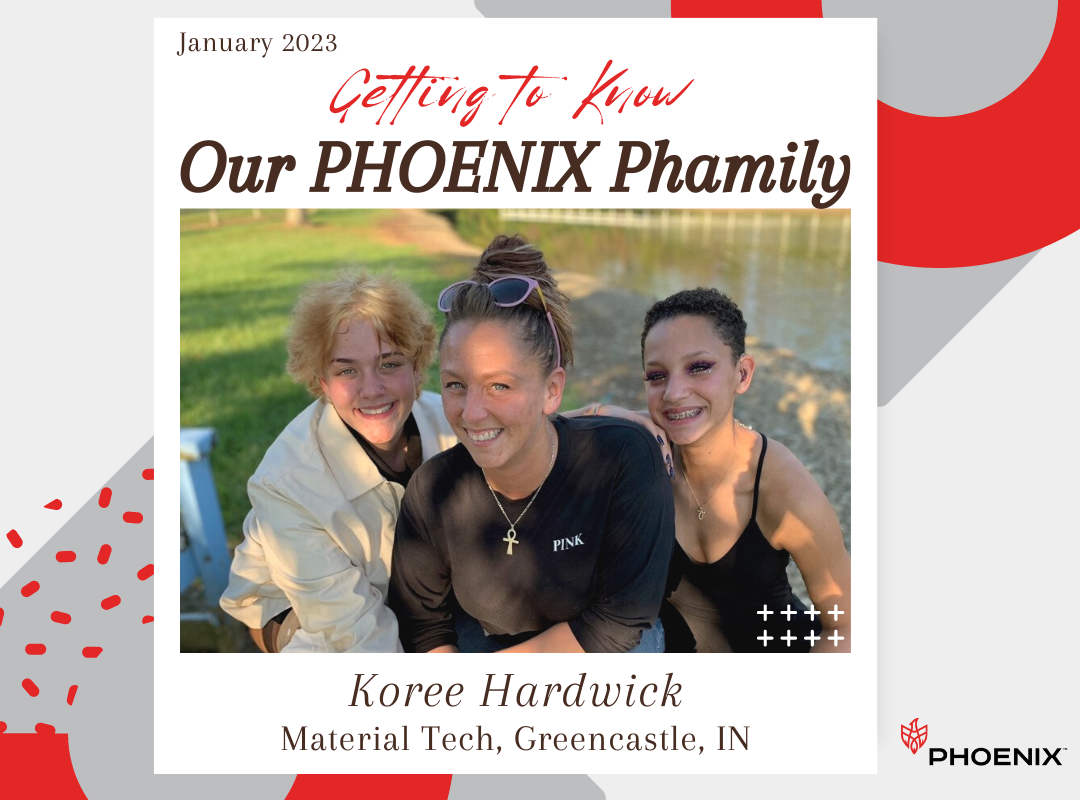 Getting to Know Our PHOENIX Phamily, Koree Hardwick, Material Tech
A vital function of each PHOENIX plant is its Warehouse. The warehouse plays an integral part in receiving materials and shipping out the caps we make. Warehouse employees are an essential cog in the machine of this company, working hard every day to make their co-workers' lives easier. Koree Hardwick, Material Tech, gives us a little insight about what she loves about her work in the Greencastle warehouse. We hope you enjoy getting to know her a little better.
PHX: In your opinion, what is the best thing about PHOENIX, as a company?
KH: I love the people, the atmosphere, and the hours I can have in my position.
PHX: As a Material Tech, what does a normal day look like for you?
KH: Typically, when I get to work in the morning, I start by answering emails, sending shipping specs, ordering pickups, and doing pick orders in the office. In the afternoon my responsibilities shift, I assist in picking orders and loading trucks in the warehouse.
PHX: In your opinion, what is the most challenging thing about your job?
KH: I think the thing that is most difficult for me is learning how to adapt to the ups and downs of our business loads. I like it when it's super busy.
PHX: What are three things about you that your coworkers at PHOENIX may not know about you?
KH: Three things they may not know about me are that I really enjoy working out, I like to travel, and I am going on a cruise soon!
PHX: What is your favorite product that a PHOENIX cap is used on?
KH: I have to say, Jif Peanut Butter.
PHOENIX employees in every department, across several plants, perform multiple functions every day to make this company run efficiently. Getting to Know Our PHOENIX Phamily was created so employees, customers and suppliers could get to know the amazing and diverse group of people that make up the PHOENIX phamily.
The employees chosen for these articles are nominated by fellow coworkers and randomly selected from a compiled list. If you would like to submit a PHOENIX employee's name, please fill out the nomination form below to have their name added to the list. Our goal is to get to know every one of our employees with this initiative.
Who would you like to get to know?