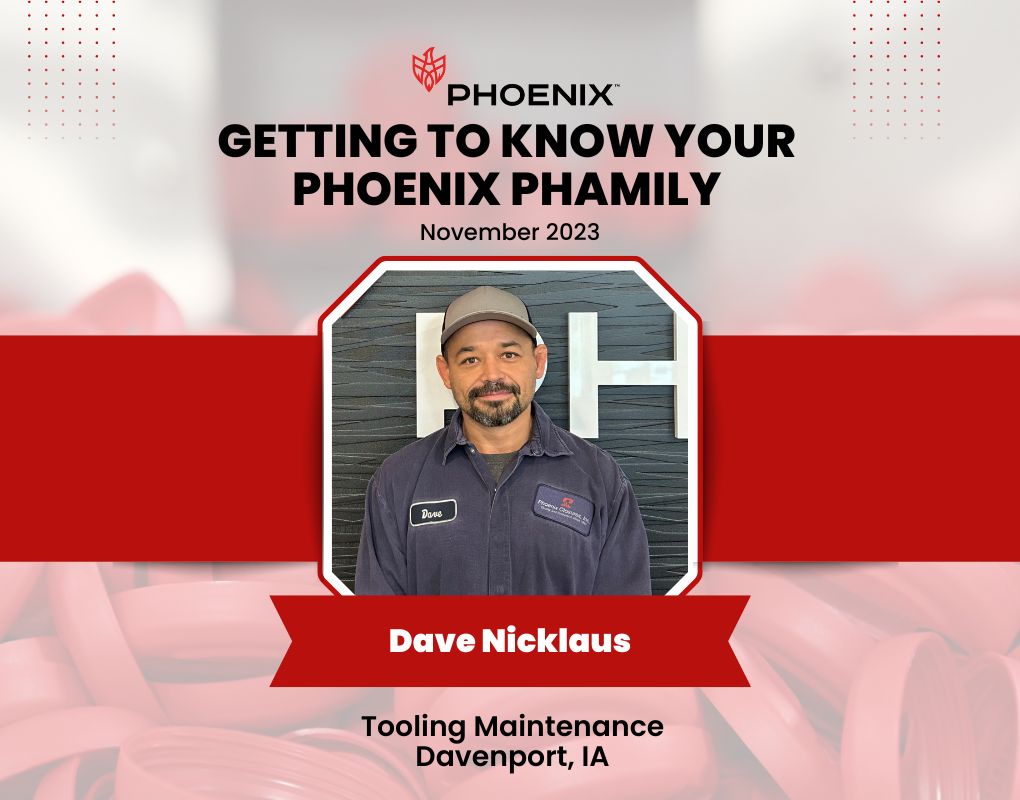 Getting to Know Our PHOENIX Phamily - Dave Nicklaus, Tooling Maintenance, Davenport, IA
Dave Nicklaus is a Jack-of-all-trades in our Davenport facility. He has served many roles in the production process and his mechanical aptitude has helped keep us running smoothly. Dave is part of our Maintenance Apprenticeship Program in Davenport. This program provides Dave an opportunity to gain additional training and experience to move into a maintenance role at PHOENIX. One of the requirements of the program is for participants to enroll in eight courses through Eastern Iowa Community College. The cost of the classes are covered by PHOENIX. Dave's more than 20-year tenure has allowed him to see the evolution of many custom products from idea to production. Here's what Dave had to say about his career at PHOENIX.
PHX: Tell us about your career at PHOENIX.
DN: I started at Davenport in 2001 and have now worked at PHOENIX for over 20 years. I spent 10 years in Production, 10 years in Mold Maintenance, and now I'm in our Maintenance Apprenticeship Program. I have met a lot of people during my employment here and still enjoy meeting new people and making friends at work.
PHX: Outside of work, what do you like to do?
DN: I like to spend time with my family. Some of our activities are going to concerts and grilling out. I enjoy exercising and going on walks and I'm currently in school at the BLONG Technology Center for the Maintenance Apprenticeship Program.
PHX: What is the most challenging aspect of your job?
DN: Davenport creates a lot of custom caps so working through all the orders and different machines can be challenging. There are many different operations. My experience on the mold team has helped me because it provides a very comprehensive view of how the caps are made.
PHX: What is a typical workday like?
DN: First thing, I check with my supervisor for any updates and projects. Then I report to any down molding or lining machines and work to get them back online. On a slow day (if we have any), I would be involved with preventative maintenance on our equipment and learn new skills through training videos while helping the lining and molding techs as needed.
PHX: What is your favorite product with a PHOENIX cap?
DN: Nutrilite. My son sells Amway, Nutrilite is one of their brands and PHOENIX is on one of their supplements.