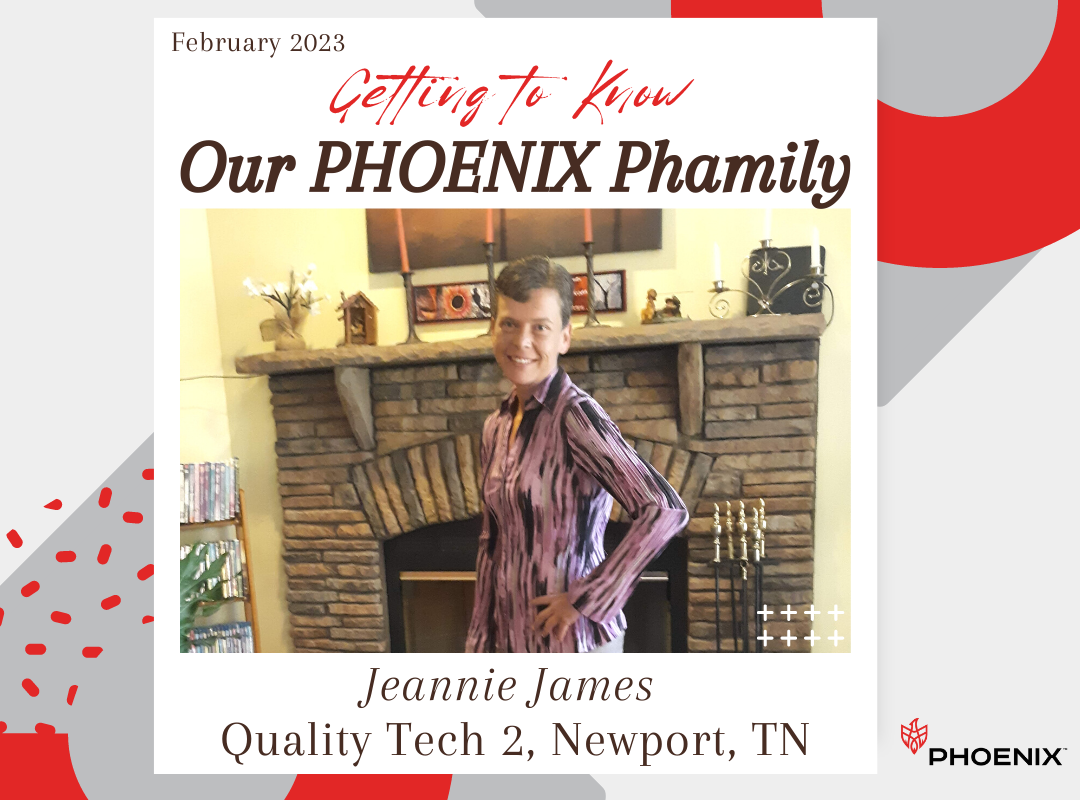 Getting to Know Our PHOENIX Phamily, Jeannie James, Quality Tech 2
The QA (quality assurance) department is vital to ensuring that PHOENIX's product is manufactured under strict quality standards. As Quality Tech 2, Jeannie James is part of a team providing quality leadership in our Newport facility. The QA team makes certain our employees and our facility are following the guidelines that allow PHOENIX to produce closures that are safe to use with food. Some of those guidelines are as simple as making sure everyone is always wearing hair and beard nets on the production floor, as detailed as inspecting raw materials and finished product, and as complex as conducting facility audits and writing programs for specialized cap testing! Because of phamily like Jeannie, PHOENIX can be proud of the product we create every day. We hope you enjoy getting to know Jeannie a little better.
PHX: Tell us about your career at Phoenix.
JJ: I started with the company in September 2012 as a part time office assistant for 2½ years. In 2015 I was given the opportunity to join the Newport plant QA Department as a Quality Technician. I became trained as a CMM programmer and served as the backup SQF (Safe Quality Food) practitioner. I also received my HACCP certification. This past March I acquired the level of Quality Tech 2 and took on the coordination of SQF manual revisions, review meetings, and other projects. Recently I also became the Newport Site Safety Coordinator.
PHX: Outside of work, how do you most enjoy spending your time?
JJ: I enjoy spending time with family, reading, hiking, and swimming.
PHX: What are three things that your coworkers at PHOENIX may not know about you?
JJ: I am an artist and I love to draw. I am an avid PINK fan (I'm going to see her in concert in September!!) and I have multiple rescue animals that I adopted.
PHX: What is your favorite product that has a PHOENIX cap?
JJ: Coffeemate creamer because I live on caffeine… LOL
PHOENIX employees in every department, across several plants, perform multiple functions every day to make this company run efficiently. Getting to Know Our PHOENIX Phamily was created so employees, customers and suppliers could get to know the amazing and diverse group of people that make up the PHOENIX phamily.
The employees chosen for these articles are nominated by fellow coworkers and randomly selected from a compiled list. If you would like to submit a PHOENIX employee's name, please reach out to marketing@phxpkg.com and ask to have their name added to the list. Our goal is to get to know every one of our employees with this initiative.
Who Would You Like to Get to Know?