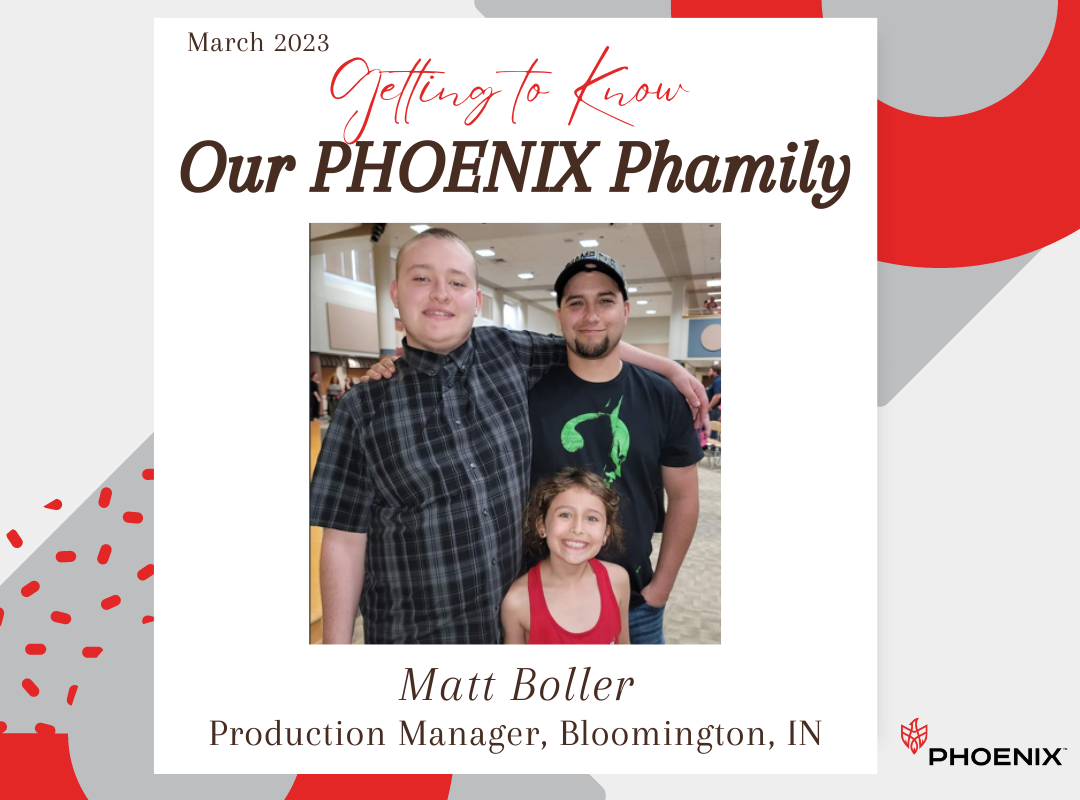 Getting to Know Our PHOENIX Phamily, Matt Boller, Production Manager, Bloomington
The role of Production Manager is a true jack of all trades! This month we learn a little more about this integral leadership role through an interview with Matt Boller, Production Manager at PHOENIX's Bloomington, Indiana facility. Matt is intimately familiar with every aspect of our production process from helping "hands on" with Production Supervisors, working with QA on quality and food safety issues, and coordinating with scheduling. Communication is essential as Matt relays information between the local management teams from engineering to maintenance and everyone in between. We hope you enjoy getting to know a little bit more about Matt and what it's like to be a Production Manager at PHOENIX Bloomington.
PHX: Tell us about your career at PHOENIX.
MB: I started with PHOENIX in 2012 at the Greencastle site as a Mold Technician. I was the first technician to complete Paulson training as the 40th person hired. I was promoted to Set-up Technician shortly after completion of Paulson, and then promoted to Production Supervisor when the opportunity presented itself about a year later. In 2021, I transferred to the Bloomington site as a Production Supervisor. I was promoted early in 2022 to my current role of Production Manager.
PHX: What most excites you about working at PHOENIX?
MB: In the Production Manager role, in a new facility, I have the unique opportunity to build a group under a united vision. Being able to work with everyone to create the PHOENIX culture from square one is rewarding to me.
PHX: In your opinion, what is the best thing about PHOENIX, as a company?
MB: PHOENIX takes everyone's input into consideration. We value the work environment and stride to have a positive culture.
PHX: Outside of work, how do you most enjoy spending your time?
MB: Outside of work I am with the family. My free time is spent with them in any and every way possible. We enjoy games, movies, travel, and anything else we can do together.
PHX: What are three things that your coworkers at PHOENIX may not know about you?
MB: I have been a Colts season ticket holder since 2007, have been married since I was 19 years old to my best friend, and I collect nerdy things that I sell and trade at conventions.
PHX: What is the most challenging thing about your job?
MB: My biggest challenge is supporting a large group of very new employees at a new facility. Training, needs, questions, and wants. Keeps me very busy.
PHX: What is your favorite product with a PHOENIX cap?
MB: I love coffee, our STOK cap here in Bloomington is my favorite.
PHOENIX employees in every department, across several plants, perform multiple functions every day to make this company run efficiently. Getting to Know Our PHOENIX Phamily was created so employees, customers and suppliers could get to know the amazing and diverse group of people that make up the PHOENIX phamily.
The employees chosen for these articles are nominated by fellow coworkers and randomly selected from a compiled list. If you would like to submit a PHOENIX employee's name, please fill out the form below and ask to have their name added to the list. Our goal is to get to know every one of our employees with this initiative.
Who Would You Like to Get to Know?