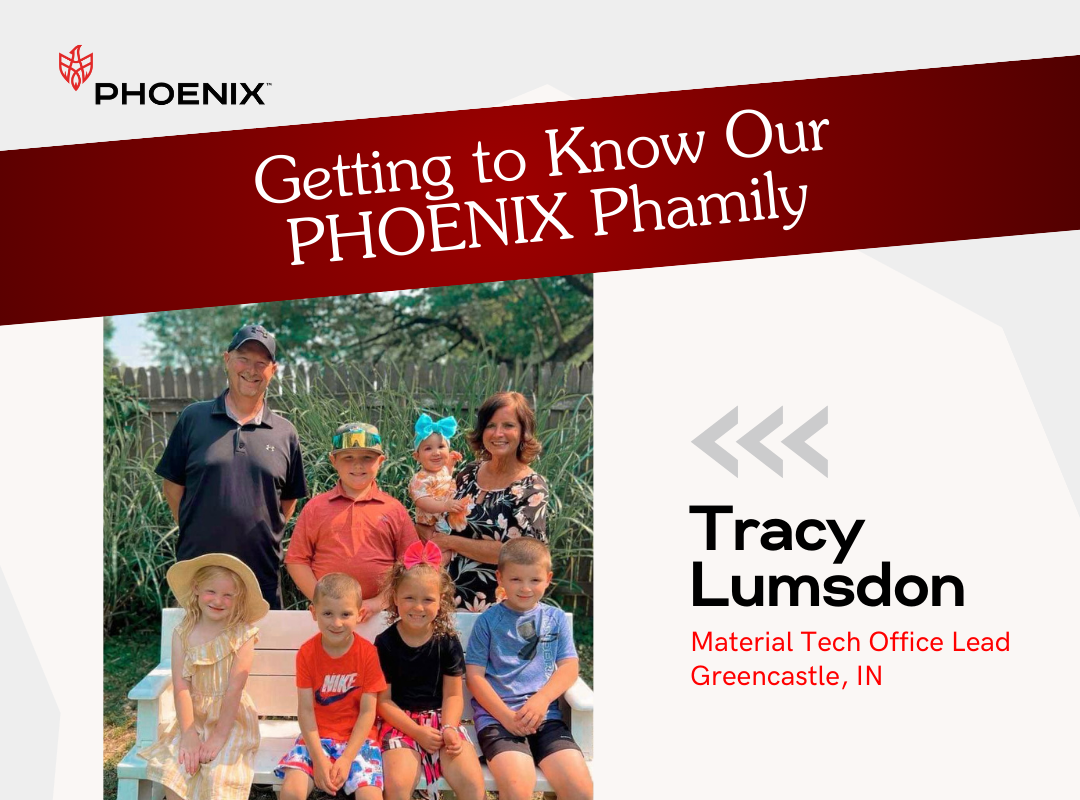 Getting to Know Our PHOENIX Phamily - Tracy Lumsdon, Material Tech Office Lead, Greencastle, IN
Tracy Lumsdon is a Material Tech Office Lead at our Greencastle facility. She has been married to her husband Jeff for 36 years. They have 3 children and 6 beautiful grandchildren, as well as a large extended family. You only need to meet Tracy once to feel the benefit of her positive attitude and warm personality! That sunny disposition comes in handy as Tracy is the main point of contact for shipping related communications. She relays information between the warehouse and the many carriers that come to the Greencastle facility each day. Being a Material Tech Office Lead requires Tracy to be a subject matter expert in routing, logistics portals and any aspect of moving goods in and out of our facility, whether by truck or by rail. She is a key communicator for both our employees and our customers. Here's what Tracy had to say about her career at PHOENIX.
PHX: Tell us about your career at PHOENIX
TL: I've been with Phoenix for 10 years. I started off on the floor as a Material Tech and I've worked my way up to Material Tech Office Lead. I love working with the Warehouse team in Greencastle and the home office. I also work with the drivers who ship with us. I love working for Tom Winders. He is a great boss.
PHX: What most excites you about working at PHOENIX?
TL: I love learning new things, being challenged and problem solving.
PHX: In your opinion, what is the best thing about PHOENIX, as a company?
TL: The people I work with.
PHX: Outside of work, how do you most enjoy spending your time?
TL: I enjoy spending time with my family, especially my 6 grandbabies.
PHX: What are three things that your coworkers at PHOENIX may not know about you?
TL: I love to boat, camp and I am a huge Cubs fan.
PHX: In your opinion, what is the most challenging thing about your job?
TL: Making sure all the caps are ready when customers need them.
PHX: As a Material Tech Office Lead what does a typical day look like for you?
TL: Making sure everything is picked, staged and ready for the day. Answering emails, sending out specs, and answering questions that come up.
PHX: What is your favorite product that has a PHOENIX cap?
TL: JIF Peanut Butter
PHOENIX employees in every department, across several plants, perform multiple functions every day to make this company run efficiently. Getting to Know Our PHOENIX Phamily was created so employees, customers and suppliers could get to know the amazing and diverse group of people that make up the PHOENIX phamily.
The employees chosen for these articles are nominated by fellow coworkers and randomly selected from a compiled list. If you would like to submit a PHOENIX employee's name, please fill out the form below and ask to have their name added to the list. Our goal is to get to know every one of our employees with this initiative.