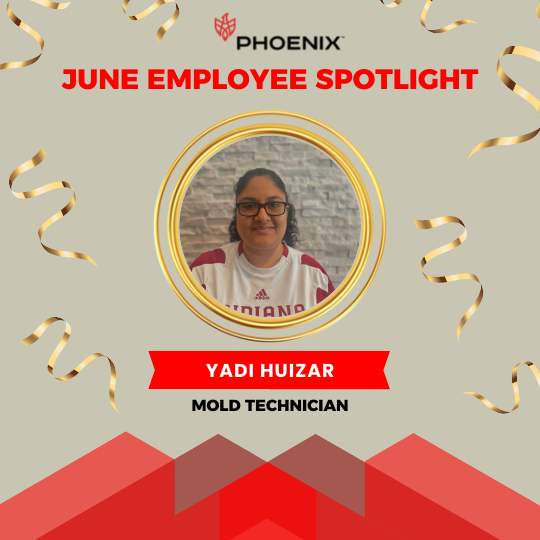 June Employee Spotlight - Yadi Huizar, Mold Technician
PHOENIX would like you to meet Yadi Huizar, our June Employee Spotlight. She has been with the PHOENIX Phamily in Greencastle, IN since August of 2021. She was promoted from Utility Tech to Mold Tech after her three-month probationary period ended, and she completed her Paulson training within two months of her Paulson class ending, which is quite an accomplishment. Since then, she has been a shining example of hard work, dedication, and an eagerness to learn. Here's what Yadi had to say about her role as Mold Tech and what her plans are for her future here at PHOENIX.
---
PHX: Tell us a little bit about your life outside of work. What do you like to do in your free time?
YH: I live in Rosedale with my fiancé of five years, and we have two Great Pyrenees dogs. They pretty much rule the house and my fiancé and I are there to meet their needs. I'm originally from West Terre Haute (in the Saint Mary's area) but I love my home in Rosedale. I'm a very outdoorsy person, so in my free time I like to go hiking and just enjoy the great outdoors as much as I can.
PHX: What led you to come to PHOENIX? What do you like about your role as Mold Technician?
YH: I originally became a paramedic after I graduated from Indiana University, but I wasn't satisfied with my role there. I decided to switch careers and come to PHOENIX because I felt that they had more to offer in the way of opportunities for me. I also like the challenges that working for PHOENIX offers because I appreciate how much there is to learn, specifically with my role as Mold Technician, and I like how I am always busy in my role without feeling overwhelmed.
PHX: What are your future goals at PHOENIX?
YH: In the future, I would like to move up in the company, but I want to take it one step at a time. I want to learn all that I can about the machines on the production floor and other important things before I look towards becoming a Mold Tech Lead, but when a Lead position becomes available, I would love to be a candidate for the promotion.
PHX: What's your favorite product that has a PHOENIX cap on it?
YH: It has to be JIF peanut butter! You can use it on so many different foods and with so many different snacks, and it's just an iconic brand and company that we do business with.
We want to thank Yadi for her wonderful contribution to our Phamily and wish her many years of success at PHOENIX!