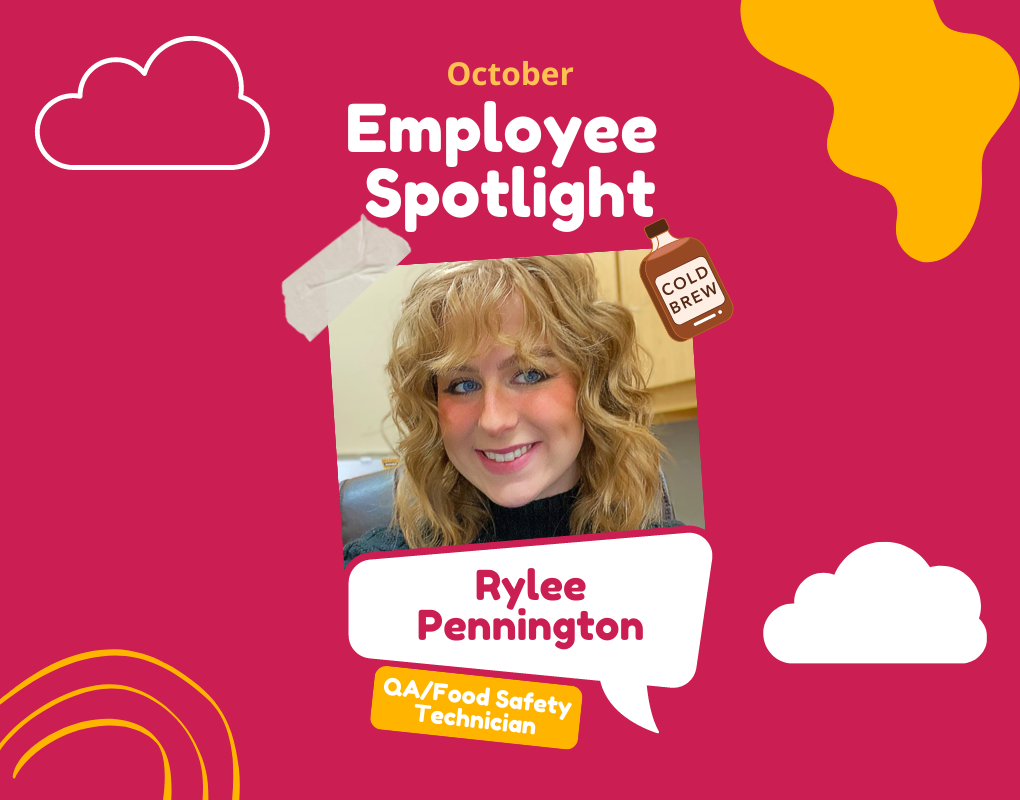 October Employee Spotlight - Rylee Pennington, QA/Food Safety Tech, Greencastle, IN
This October, our employee spotlight is in Greencastle, Indiana where Rylee Pennington is QA/Food Safety Technician. Here's what Rylee had to say about working at PHOENIX:
PHX: Tell us about your career at PHOENIX.
RP: My favorite thing to say about coming to PHOENIX is that I got here in a roundabout way. When I was in college I was contracted to work here as part of the janitorial service – it was a part-time job, and I would come here to clean the building two to three times a week. I did that for about a year. After I graduated, I got an internship in the Maintenance Department. I started getting to know more about the different departments and eventually I was approached about the Quality Tech job, which is my current position. I think it is neat that I started as a contractor and worked my way up to where I am now.
PHX: What's something that you appreciate about your role in Quality that you weren't aware of before becoming a technician?
RP: I think the most interesting thing about Quality and about Manufacturing in general is how much effort and how many details go into making something that seems as simple as a plastic cap. There are so many layers to what goes into it. Within Quality there are so many important tests that we do to make sure that everything about the cap is perfect – we're like the triple-checkers! A lot of times we are the first and last line of defense on the raw materials coming in and the product going out
PHX: What motivates you or stands out to you about working at PHOENIX?
RP: What motivates me is the desire to learn. I still feel like I'm pretty green as far as this whole business goes. Everything I don't know is what motivates me to keep going: to learn more and put the puzzle pieces together. At PHOENIX everyone is open to answering your questions and people are very encouraging when it comes to letting you pursue any opportunities you might find to learn something new or different.
PHX: Outside of work, how do you most enjoy spending your time?
RP: I studied English literature in college, so I love reading, and I recently took up paddle boarding. Otherwise, spending time with friends and family is how I spend most of my free time. I also have an antique camera collection! The oldest camera I have is from 1906 and I have several vintage camcorders too. Originally my brother started collecting cameras for me because he knew I liked them, and the Parke County Covered Bridge Festival is where we got started. It's an annual festival that runs for ten days and it's a great place to find handmade or antique items and crafts.
PHX: What is your favorite product that has a PHOENIX cap?
RP: Something I use daily is STOK cold brew coffee! I love it.